A Healthy Smile is Your Greatest Asset
Many people tend to take their healthy smile for granted. It's only when a dental problem arises, or when a tooth is lost that we realize the importance of a healthy smile by a restorative dentistry. A healthy smile is not only an important part of your physical appearance and sense of confidence, and often the first thing that people notice about you, it's also essential in maintaining normal speech patterns, eating a healthy diet, and maintaining your bone and facial structure.
Thankfully we live in an exciting time for dentistry with modern advances in techniques, technology, and materials. With restorative dentistry, your La Crosse dentist can restore a single tooth, or all of your teeth with durable, natural-looking ceramics that look, feel, and function just like your natural teeth.
If you have a tooth or teeth that are broken, badly decayed, or missing altogether, we would love to restore your smile, your confidence, and your life!
Crowns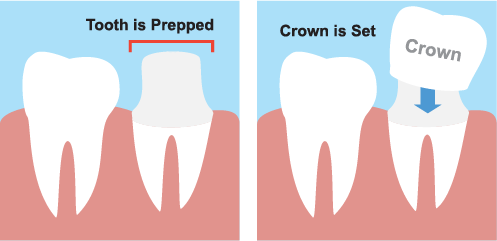 If you have a tooth that is cracked, broken, chipped, decayed, or missing all together, you may require a dental crown to restore the tooth to health. A crown is a tooth shaped cap made from durable tooth colored porcelain. If you still have some healthy tooth structure remaining, we want to preserve it for as long as we can. Your crown will fit perfectly over your natural tooth structure to restore the tooth to health, function and aesthetics.
If you are missing a tooth entirely, and still have a healthy enough jawbone to support a dental implant, we may be able to replace the tooth root with an implant and secure a whole new tooth or complete crown. If you are interested in dental implants, you should schedule a consultation with Dr. Carolyn Giannelli and we can refer you to a trusted dental implant specialist in La Crosse for placement.
Bridges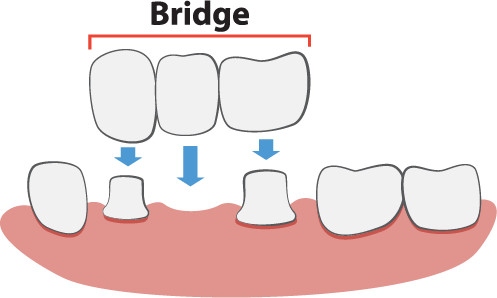 If you're living with a gap in your smile, a dental bridge may be just what you need to restore it. Whether you're missing a single tooth or multiple teeth, we can create a beautiful porcelain bridge and secure it with the help of crowns on either side. Bridges help restore the balance of your mouth by preventing surrounding teeth from shifting or rotating, protecting your bite, and rebalancing the forces that can be problematic when missing teeth are allowed to remain missing.
If you think you may be a good candidate for a dental bridge, we would love to help you enjoy your favorite foods again, and the confidence that comes with a complete smile.
Contact your La Crosse restorative dentist today to learn more or schedule a consultation!
Dental Implant Restoration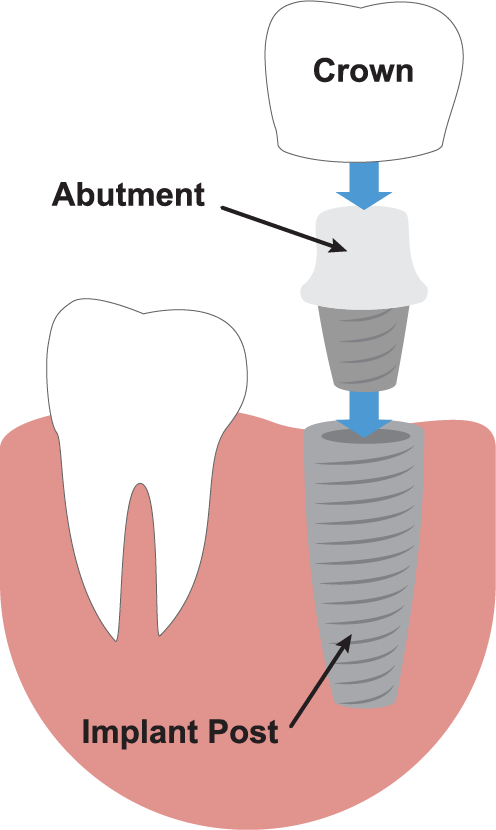 Dental implants are the #1 recommended tooth replacement solution today, by both doctors and patients alike. Unlike traditional restorations that sit on top of the gums and only replace the crown or visible portion of the tooth, dental implants actually replace the root of the tooth, which is an essential component of a healthy, functioning, secure smile. Dental implants can help maintain the integrity of the surrounding teeth and your bite, and prevent the underlying jawbone from deteriorating.
At Neighborhood Smiles in La Crosse, we work closely with a number of implant specialists we can refer you to for precision placement. Trust us, you're in good hands with our network. Once healed, you can return to our team to be fitted for a beautiful, natural looking restoration like a crown, bridge or implant supported dentures!
Dentures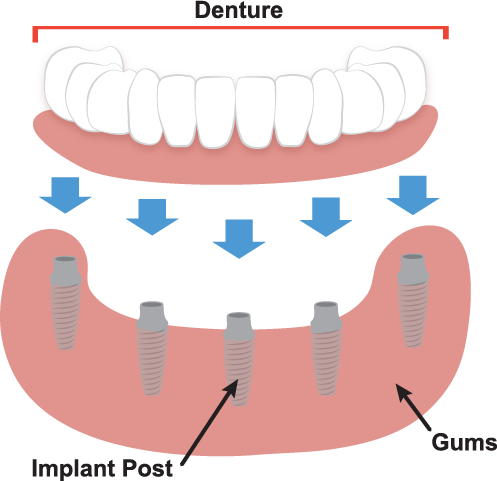 At Neighborhood Smiles, we understand the loss of your natural teeth can be traumatic. We also understand living with ill-fitting dentures that slip out of place only adds insult to injury. Our team has the compassion, the technical skills and the technology to create a beautiful new set of dentures that will give you back your healthy, beautiful smile, your confidence, and your quality of life!
We use strong, durable and natural-looking ceramics to create a set of custom dentures that look just like your natural teeth – only better! They will allow you to enjoy your favorite foods, to speak naturally, and to smile and laugh with confidence – without worrying about your teeth!
If you are a candidate for dental implants, we highly recommend considering implant supported dentures for the most secure, most life-like fit and function.
If you're interested in learning more about our denture options, or would like to schedule a consultation with a La Crosse dentist skilled in the creation of dentures, contact us today!
Root Canals
If you are experiencing severe tooth pain or sensitivity, you may have an infection that needs to be treated with a root canal. DO NOT wait for the problem to resolve itself, because it won't! It will only get worse over time left untreated. Come see us right away and we'll help you get your smile back to health.
We know that root canals have earned a bad rap over the years, but the truth is, today, with advances in modern techniques and materials, root canals are nothing to fear. Dr. Giannelli will go in and remove the infection, fill the chamber to prevent further infection, and seal the tooth with a crown. Viola! No more pain and sensitivity, and a healthier mouth.
If you think you may be in need of a root canal, let our trusted team at Neighborhood Smiles be the one to take the very best care of you. Get in touch with us today!
Contact Us
If you have any questions about restorative dentistry at Neighborhood Smiles, or would like to schedule an appointment with your La Crosse restorative dentist, Dr. Carolyn Giannelli, give us a call today at (608) 788-6939 or request an appointment online!